A Life of Wonder - Shop Towel
Congratulations! You are now on the waiting list, please check your inbox for our confirmation email!
A shop towel that believes in your Life of Wonder. Great for your garage and keeping your weekend car clean as hell...or picking up after your kids. 
14x14, 100% Cotton
"A Life of Wonder"
In 2017, Josh was digging through his mom's belongings a few days after her passing and was surprised to see she'd written him something when he was a kid. Her sudden passing never gave his family a chance for a goodbye so the letter he found carried the responsibility of what her last words would be.
The last line in her square and slanted script ended with: "advance to a life of wonder."
These words have become our mantra and we invite you to share in this life of wonder. 
Customer Reviews
08/02/2020
Mark H.
United States
Good reminder
At this point in life, when I get to be in the garage wrenching on something it's a luxury not a chore, so even when the project is driving me crazy, it's nice to be reminded that I have a life of wonder - and that's why I get to bruise up my knuckles when the wrench slips or the bolt falls. Nice shop addition, glad to have them.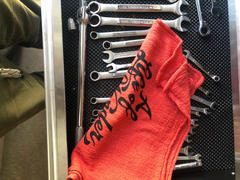 06/15/2020
Abby
United States
Useful for a lot of things!
I was wiping away some baby drool and immediately thought: she's my little life of wonder! I love using it and being reminded of something true and wholesome.
06/15/2020
Aaron
United States
Perfect for working on my vintage motorcycles.
I got these the second they came out. You can say a towel is just a towel, but I've been working on vintage bikes and its nice to be reminded of the slogan "A Life of Wonder." Having worked hard to get these bikes and now working hard to restore them, this is just a nice touch in the garage to keep me stoked.